Baseball coach wanted !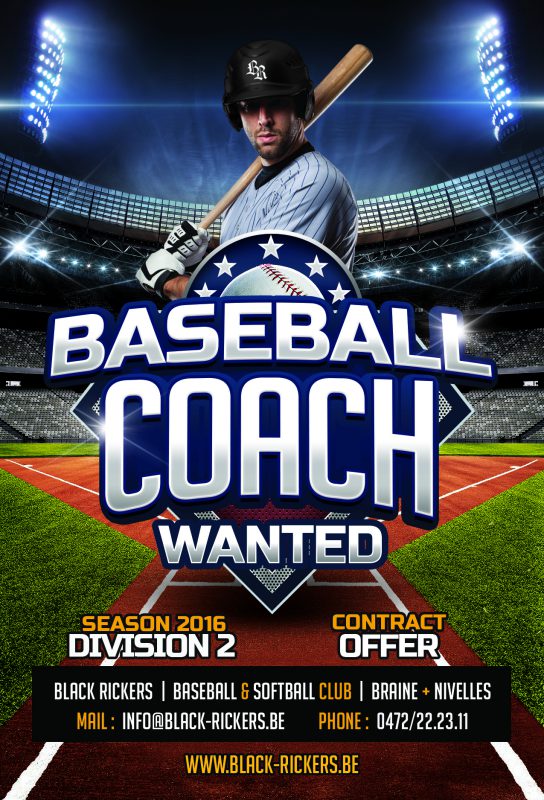 English version

The baseball club Black Rickers is looking for a head coach for his first team!

Created in 2007, the club has now about sixty players, women and men, playing in the 2nd and 4th baseball Belgian division and 3rd softball Belgian division.

The first baseball team has been in the second division for 3 years but one of our goals is to move up to the first division in a near future.

To achieve this goal, we are seeking now for an experienced baseball coach.

The coach's mission is to create a sensible program and to organize trainings, to direct matches, to strengthen the physical and  technical players skills, all the while maintaining a strong team cohesion with good interpersonal skills.

The club provides a global compensation for all provided services and travels for the games and practices.

Practice is currently taking place in Nivelles on Wednesdays until September, with games on Saturdays. Winter training will be indoor in Braine-le-Château.

For more information, please feel free to contact us at :
info@black-rickers.be
+32 (0)472/22.23.11 (Xavier Raymond, President)
Le club de baseball Black Rickers cherche un head coach pour son équipe première !
Créé en 2007, le club compte aujourd'hui une soixantaine de joueuses et joueurs, évoluant en 2ème et 4ème division belge de baseball et en 3ème division belge de softball.
L'équipe première de baseball est en 2ème division depuis 3 ans et vise la montée en 1ère division dans un avenir proche.
Pour atteindre cet objectif, nous recherchons dès à présent un coach de baseball expérimenté.
La mission consiste à savoir animer des entraînements rythmés et organisés, et diriger les matchs, à renforcer les compétences physiques, techniques et stratégiques des joueurs, tout en maintenant une forte cohésion d'équipe avec un bon contact humain.
Le club fournit une indemnisation globale pour l'ensemble des prestations données et les déplacements pour les matchs.
Les entraînements se déroulent actuellement à Nivelles le mercredi jusque septembre avec les matchs le samedi. Les entraînements d'hiver se feront en salle à Braine-le-Château.
Pour plus d'informations, n'hésitez pas à nous contacter.
info@black-rickers.be
+32 (0)472/22.23.11 (Xavier Raymond, Président)